Silent Meditations
Meditations at Mother Meera groups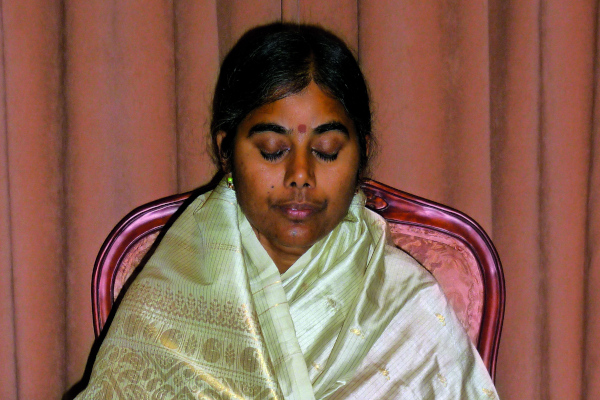 There has been a increasing awareness of the mental, physical and emotional benefits derived from the practice of meditation in recent years. There are many different forms of meditation, all with the aim to quieten the mind, to lead to a state of being centered and calm, and to ultimately lead to a state of being more connected with the inner soul, with the Divine within us.
Mother Meera is not teaching any particular meditation technique, but she does recommend doing Japa , the practice of repeating a mantra, a holy phrase or sentence, or a simple word denoting our highest ideal, or God.
Mother Meera has now inspired the formation of silent meditation groups in Her name. These groups will provide a "sacred space" in which people, can meditate more deeply together, and be inspired and guided by Mother's light and energy.
Everybody is welcome to participate in these groups.
All the meditation groups are independent and are guided by an overall universal spirit rather than by any hard and fast rules.
A silent meditation of about half an hour or longer will be the main focus for the group. Meditation can be followed or begun with Bhajans, spiritual songs, reading of spiritual texts, prayers etc. The whole meeting should reflect the wishes of the group.
Meditation will be in silence, without any guidance as to mantra etc., and any type of silent meditation may be practiced.
If people need support with regard to meditation, then more experienced members of the group can help. There are suggestions in Mother's books regarding Japa and meditation
Find contact details of the groups on this page > > . As the groups work independent, it is best to contact the group if you are interested, and enquire about their programme. If you want to hold meditations yourself, see details here >.