Schloss Schaumburg
Mother's Home
The Darshan Location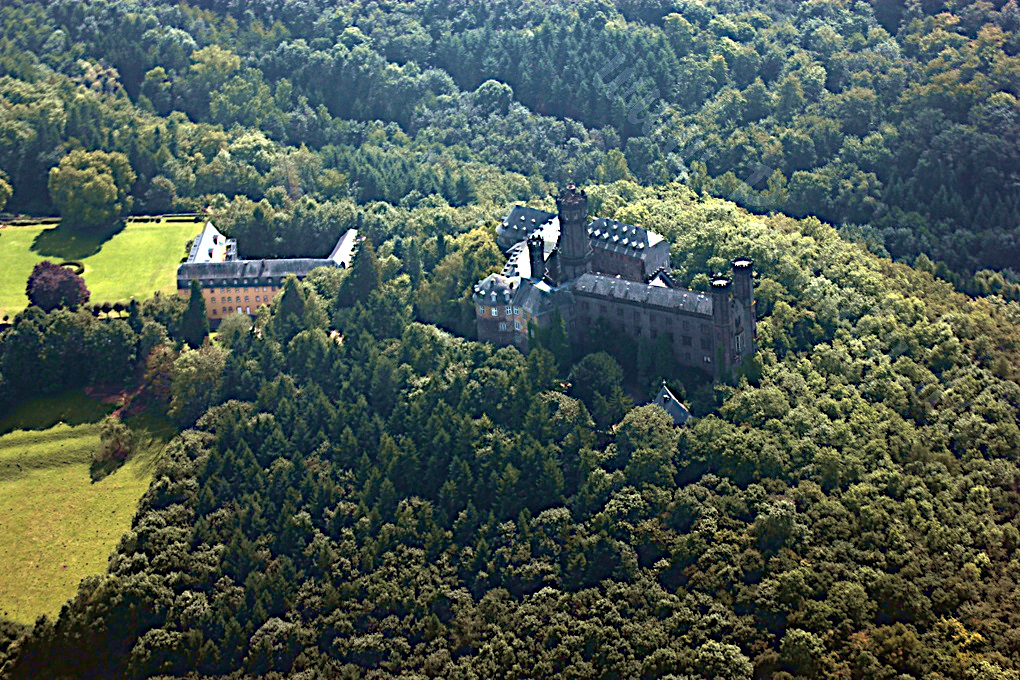 Darshan takes place at Mother Meera's Darshan Hall at the foot of Schloss Schaumburg (see map ), which is situated in the village of Balduinstein , 10 km south-west of the medieval city of Limburg , overlooking the picturesque Lahn River valley.
Usually Mother Meera gives Darshan or Meditation every  Saturday, and Sunday in Schaumburg, Germany. 
Please always check the dates and times on our  Darshan Calendar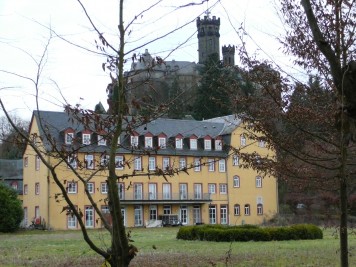 How often can I visit Darshan? Check here >
One can only come to one Darshan a day.
To register for Darshan, please click here > > .
You find a hotel list here
See also: Darshan etiquette
Travel Info to Schaumburg
Address:
Mother Meera Home
Schloss Schaumburg
65558 Balduinstein
Germany
---
View larger map
By airplane:
You can fly to Frankfurt airport (1h drive to Schaumburg), Frankfurt-Hahn (with Ryanair , 1h30 drive to Schaumburg), or Cologne/Bonn (1h30 drive to Schaumburg).
By train:
You can travel by train from Frankfurt Airport to Limburg: Tickets to Limburg/Balduinstein at the Travel center or at Ticket Machine at Terminal 1 below airport section B. 1) S-Bahn: Airport - Frankfurt main station. 2) Frankfurt station - Limburg/Lahn (possible change in Niedernhausen). 3) In Limburg change to local train or taxi and travel to Balduinstein or your destination. Or direct train (ICE, Inter-City Express) from Frankfurt Airport (Fernbahnhof) to Limburg-Süd and then via taxi or local train to Balduinstein or your destination (you need to take the shuttlebus from Limburg-Süd to Limburg/Lahn main station if you want to contimue by local train). This connection is much faster, but more expensive.
By train from other directions: Train Giessen-Limburg-Koblenz. Balduinstein is the 3rd station after Limburg. You may walk from Balduinstein to Schaumburg. But be aware: it is a 25 min. walk uphill and you need a torch and good shoes.
By car:
Driving from Frankfurt: It's a 1-hour drive from Frankfurt airport to Schaumburg. Follow signs A3 (Autobahn no 3) to Wiesbaden / Köln. Coming from Frankfurt City follow signs for A66 to Wiesbaden, then for A3 to Köln (Cologne) ❶ Leave A3 at exit Limburg-South ☞ Limburg. ❷ After tunnel turn left B54 ☞Bad Schwalbach / Diez. ❸ In Diez turn left (2 big white fuel tanks) B54 ☞ Bad Schwalbach / Katzenelnbogen. ❹ After 1,5 km turn right to Katzenelnbogen / Birlenbach. ❺ After Birlenbach turn right in the curve with a concrete divider to Schaumburg / Balduinstein. The castle appears on the left after about 1 km.
Driving from Cologne (Köln): Leave A3 at exit 41 Diez / Nassau. Take a right turn twice to Eppenrod. Follow signs Hirschberg ☞ Langenscheid ☞ Balduinstein ☞ Schaumburg.
By taxi:
There are no buses or trains to Schaumburg!
Taxis from Limburg to Schaumburg (appx. € 16,-): ABC 06431-222222, Addi 06431-22212, Link 06431-54060, Hofmann 06431-8322, Erdmann 06431-3366, ABC-Cab 06432-801313, Hahn 06432-7777, Hürter 06436-91024.